at Marina Shores
Designed by renowned Ken Down Architects, Marina Shores Airlie Beach delivers unparalleled levels of liveability and accessibility. Marina Shores features a contemporary theme with gently curving forms ensuring wide frontages to complement its absolute waterfront setting. (more…)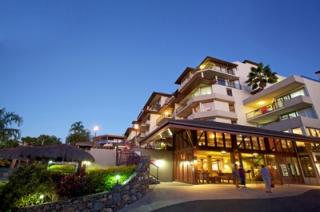 at Waters Edge Resort
If location, tranquillity and comfort are what you are looking for in holiday accommodation, then Water's Edge Resort apartments are for you.
Water's Edge Resort apartments in Airlie Beach, are quietly nestled in the hillside amongst lush tropical gardens, 100 metres from the centre of the bustling (more…)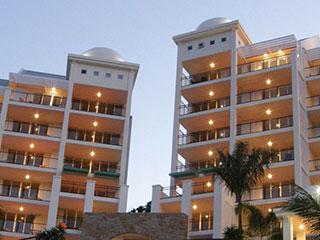 at Blue Horizon Resort Apartments
Blue Horizon Apartments creates the perfect setting for your Airlie Beach holiday. Whether you are looking for a romantic getaway, a family friendly destination, or somewhere to mix work with pleasure Blue Horizon Apartments can cater for all tastes.
Please ensure WHITAP is entered into the promotional code to qualify for complimentary (more…)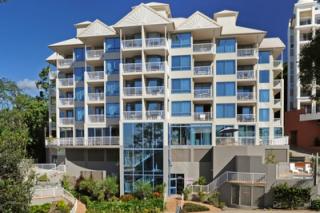 at Whitsunday Vista Resort
Whitsunday Vista Resort is a pleasant five minute level walk to the centre of Airlie Beach, a bustling seaside resort village with great shopping, restaurants, cafés, bars and famous Airlie Beach swimming lagoon. Whitsunday Vista Resort is an ideal base from which to explore the Whitsundays, with an on site tour desk and convenient bus stop literally on our doorstep. (more…)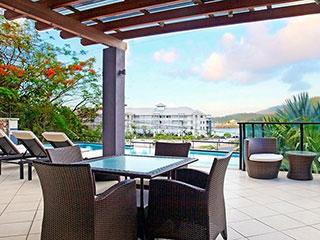 at Waterfront Whitsunday Retreat
Waterfront Whitsunday Retreat sets new standards of luxury award winning couples only boutique accommodation in the Whitsundays. Adjoining Airlie Beach and nestled on Pioneer bay which features pristine turquoise waters surrounded by breathtaking rainforest, guests can expect a high level of privacy coupled with exceptional unobtrusive personalised service. (more…)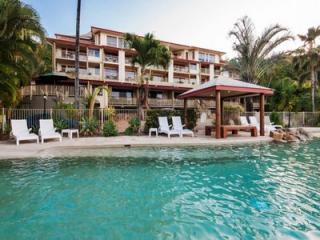 at Boathaven Spa Resort
Your Perfect Airlie Beach Accommodation Destination!
Boathaven Spa Resort is located just 250 metres from Airlie Beach, and it is less than a 5 minute leisurely stroll to all the restaurants, cafe's, cocktail bars, shops, boutiques, markets and famous Airlie Beach Lagoon.
Every room has a balcony with views over the Port of Airlie, the Coral Sea or Boathaven Bay. All apartments are air-conditioned (more…)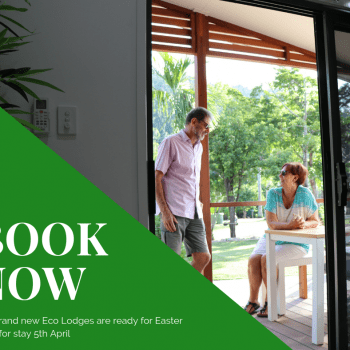 Whitsunday Tropical Eco Resort
Whitsundays Tropical Eco Resort is a family owned and run caravan park in Airlie Beach. We are also Pet Friendly! Previously Flametree Tourist Village, Whitsunday Tropical Eco Resort joined the Big4 team on 5 October 2018.
Whitsundays Tropical Eco Resort is nestled in 7 acres of shady tropical foliage next to the Conway National Park. We are just minutes to Shute Harbour, gateway to the 74 islands of the spectacular Whitsundays. In addition, we are 5 minutes drive to the tourist centre of Airlie Beach with its many shops and fine restaurants.
And best of all we back onto Whitsunday Airport – so you can park your aircraft and simply walk to your accommodation.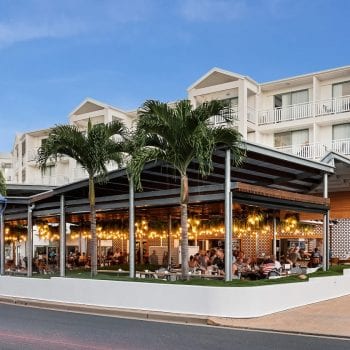 Airlie Beach Hotel
The Airlie Beach Hotel aims to provide the most attractive choice for your stay or dining experience in the Whitsundays. We cater for both leisure and corporate visitors as well as for local residents. The line 'in the heart of Airlie Beach' says much about our location but does not convey the splendid views from the Ocean View Rooms, Premium Rooms and Suites directly across the beach to the Coral Sea and the islands to the north, while Village View and Motel rooms provide other options to suit all budgets.
Please ensure WAP14 is entered into the promotional code to qualify for complimentary landing fees during your stay. Please email your reservation details to info@whitsundayairport.com.au